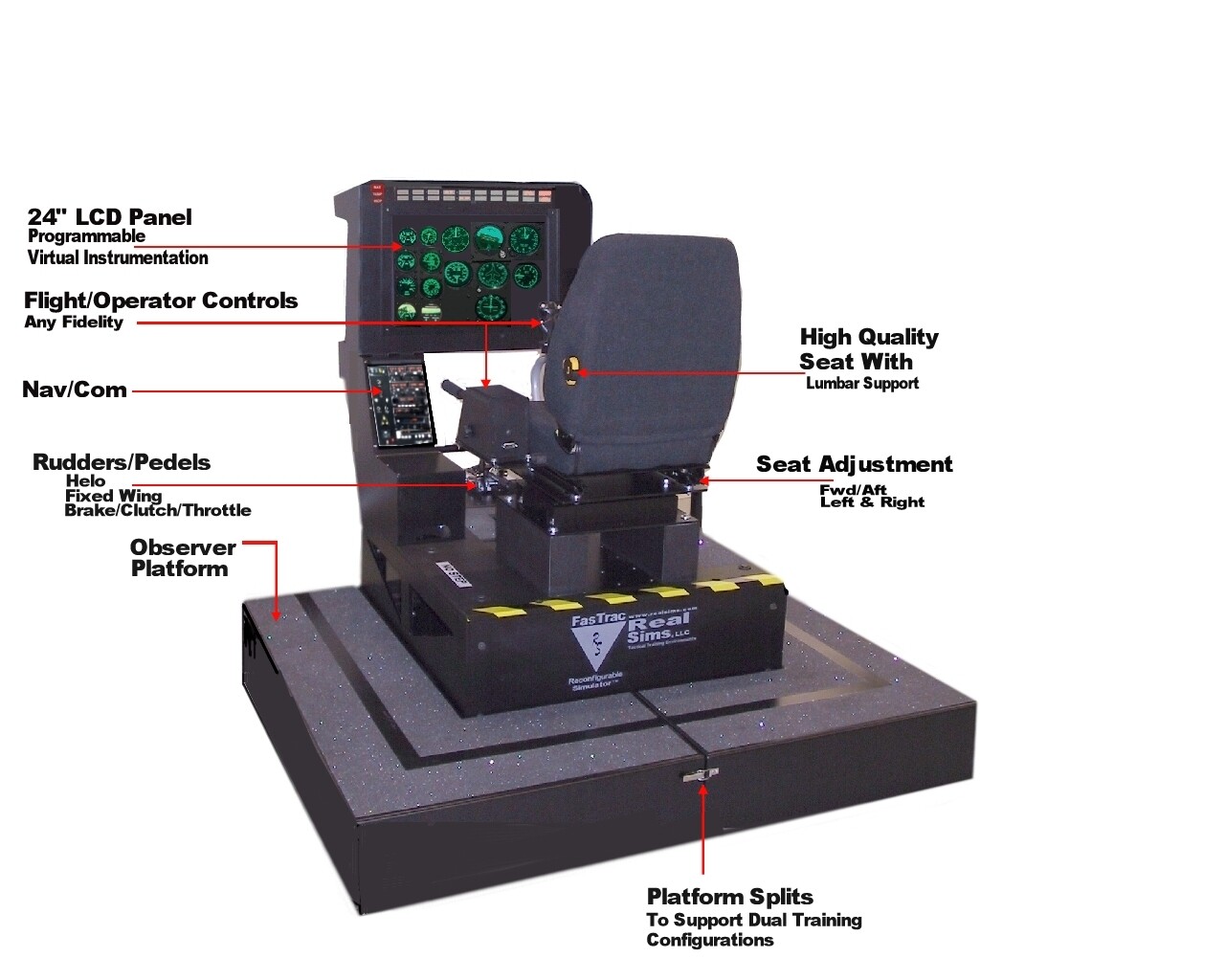 RealSims FasTrac Bravo Part Task Trainer
SKU RS-SINGLE-SEAT--FASTRAC-BRAVO-PTT
Product Details
The RealSims FasTrac Bravo Part Task Trainer (PTT) is a modular reconfigurable open seat simulator primarily used to train fixed and rotor wing pilots on operational and emergency procedures. The configuration shown and offered here is a Bell206B Jet Ranger helicopter single pilot configuration and includes a Bell206 front instrument panel, seat and single position flight control system (collective with twist throttle, cyclic and pedals. (call for price on other configurations)
The system is based on RealSims Patented modular simulator technology which incorporates a reconfigurable Platform Optimization Deck (POD). The POD is a BASE mounting structure containing a grid array of multiple mounting point. This enables the exact positioning of seats instrument consoles and flight control surfaces to replicate the proximity of aircraft controls and instrument clusters. PODS can be GANGED together to support optional or future dual crew cockpit configurations in a side by side or front and rear (tandem) configuration.
OPTIONS - Single (1) Out the Window LED Screen with WALL Mount
Three (3) Out the Window LED Display Screens with (3) FLOOR Mounts
Dual Crew Cockpit Configurations
Overhead Breaker/Switch,Gauge Panels, Hydraulics, USB Switches Call)
NOTE: Simulation Servers and Software not included in the price of this unit
---
Contact RealSims via EMAIL at info@RealSims for additional information or a quotation on a different aircraft configuration.
Delivery for this product is 45-60 Days After Receipt of Order (ARO). Shipping and Handling is additional and will be quoted separately.
Save this product for later